NEW! Darn Tough Socks... Just In Time For Christmas Shopping!
Darn Tough socks have a lifetime warranty! We love them because of the cushioned bottom as it is healthy for your feet and the moisture wicking merino material. You'll love them because of the comfort.
Shop Socks
Welcome to the healthwalks online shoe store
Walk In, Dance Out...Online!
Our shoe store only sells the best of the best for your feet. Our podiatrist personally reviews each and every shoe that we sell to ensure you're getting premium quality with each pair. Our staff are trained as Comfort Specialists: skilled in the science and art of finding the right shoe for you. Most brands come in a variety of widths to ensure a healthy fit for even hard-to-find sizes, and are compatible with orthotic inserts and insoles.
Check out our video for more information on how we select our shoes!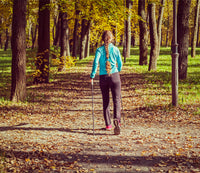 New! Now Offering Nordic Pole Walking Classes
Explore the outdoors by joining us for one of our classes! Nordic Walking is a highly effective low-impact fitness activity that offers incredible benefits for wellness and weight control. A popular form of exercise, it is easy and fun to learn and leads to improved cardiovascular conditioning and skeletal muscle strength. It also offers a multitude of health benefits.
​
View Our Upcoming Classes & Join Waitlist
NEW! Get Ready for Class with Nordixx Walking Poles
About the HealthWalks Inc. Online Shoe Store
The HealthWalks Inc. online shoe store carries Blundstones and a hand-picked selection of sandals from our in-store collection, which features more than 25 top brands of men's and women's shoes, boots, orthopedic and athletic footwear. Brands include Birkenstock, Alegria, Blundstone, Wolky, FitFlop, Mephisto, New Balance, and many more.
Check out our FREE Birkenstock Educational Videos in our Learning Portal
Get in Touch
452 East River Rd, New Glasgow, Nova Scotia | 902-755-9675
533 Prince Street, Truro, Nova Scotia | 902-893-9675 
info@healthwalks.ca